35 Years Building Business Technology
TJD Web Solutions has been here since Microsoft was a penny stock and Unix was a baby. We were here when the only internet was for the government, academia and big business. We have helped small, medium and large businesses stay up to date with the latest technologies and created many proprietary networks, software and web applications. We have over thirty years of experience in the technology industry and over 100 years of combined staff experience. Our consultants range from network engineers, computer science engineers, web development architects, software design engineers and more. If you want a full service company that is rooted in technology development and committed to achieve your goals and dream then you have come to the right place.
Technology Expertise That Puts You In Control
Our staff has a wide range of expertise and we will listen to your needs and follow you every step of the way from concept to implementation and training. Let our combined 100 years of knowledge help you achieve your goals.
Green Technology That Keeps You Ahead Of The Competition
For 35 years we have been building success stories in the technology field. We started at the beginning and after thirty five years we are still going strong. Let us get you ahead of the technology and build to suit your needs. Are design and implementation will provide you with a system that will grow with you.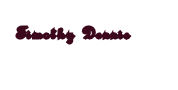 Timothy Dennis
Owner TJD Web Solutions